Everything you ever wanted to know about getting into the VFX Industry
In August during the school holidays we were joined by three 16-year-olds , Reece, Aron and Louis, to learn more about the world of visual effects (VFX). They worked together to create a blog and short film to provide young people with an insight into some of the different jobs available in VFX and how to get them.
Together they researched and wrote interview questions for some of our Union folks across a mixture of roles, set up and filmed them using our in-house camera equipment and edited the footage into a fantastic short film.
Here is Reece and Louis' blog and the accompanying video they made with Aron during their time here.
Day 1
When I first arrived at Union, Louis, Aron and I were shown around by Ling, their Facilities Manager. She showed us all the rooms including the theatre room and the downstairs artist space. This was probably the coolest place in the building in my opinion because the workstations were in darkness - it reminded me of watching a film in school when the teacher would turn the lights off.
Both floors had a kitchen area where everyone could get something to eat or drink. They were also able to have a quick chat with other staff when they got up, which shows there is a good working environment. Once we had finished looking around, we went to the theatre room to see a montage of shots that Union had done, it was very impressive. A lot of things that you think are real in a scene will most likely be vfx, even tiny people walking in the background.
Our main project whilst we were at Union was to film, edit and put together a film of interviews with some of the staff at Union. Union's On-Set Supervisor, Taskin, showed us how to work all the camera equipment and gave us three cameras and tripods to film the interviews. We had no sound equipment so we improvised and used the microphones on our headphones.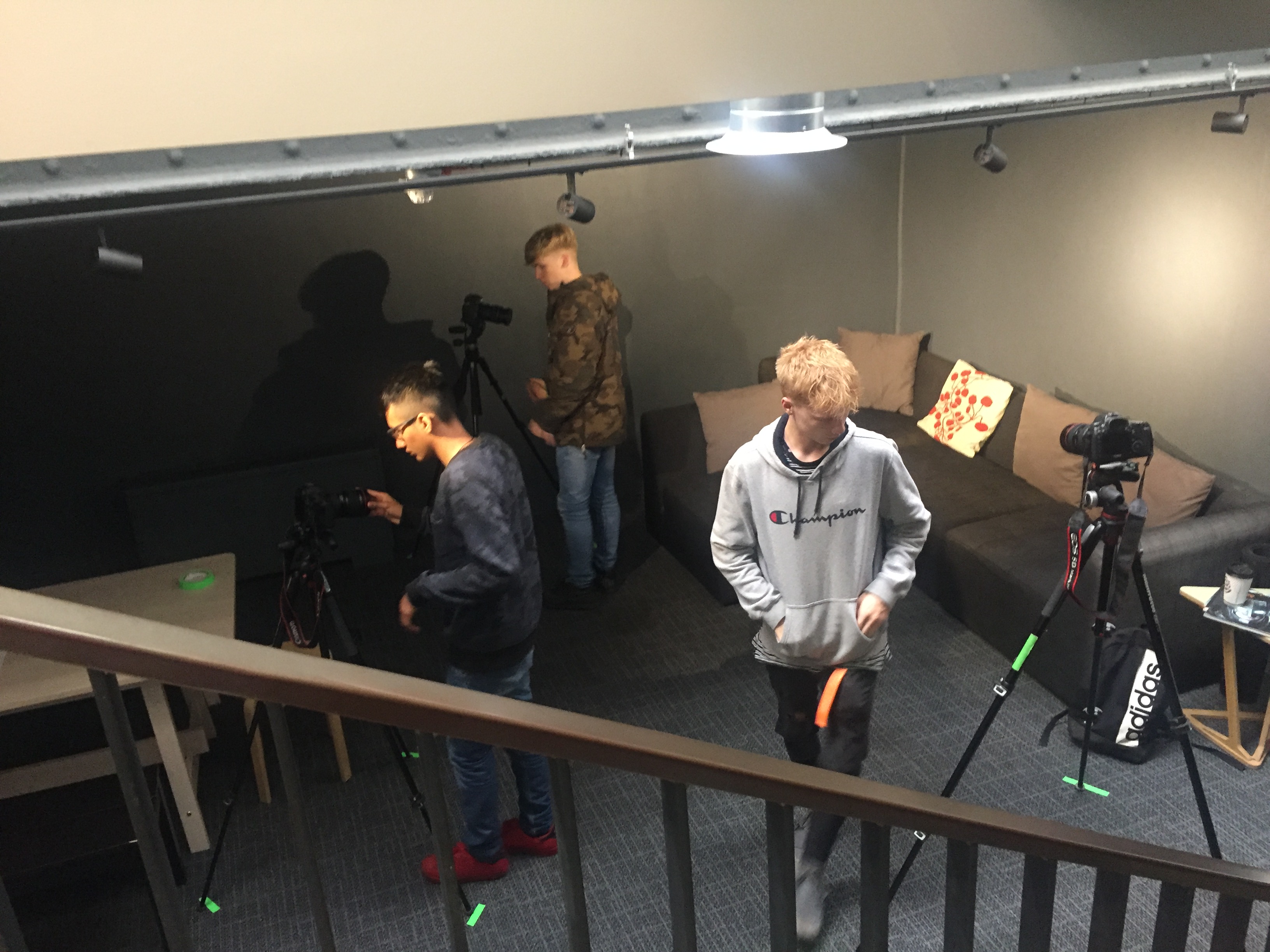 Our filming set-up was in the downstairs break-out area. With our three cameras, we were able to set up one camera to video me (I did the interviewing), one forthe person being interviewed and one to capture both of us in the same shot. This gave us several angles in the footage and Aron was able to edit it to make the interviews look as professional as possible. When setting up the cameras, we marked the floor with tape for the positioning of the legs of the tripods so we could place them in the exact spot the next day.
For lighting we used the rotating lights on the ceiling and tried to position them so that the video would look as well lit as possible.
Once we'd set up all of the equipment we went on a lunch break. This was nice because we were able to walk around London and eat whatever we wanted. I had a veggie German schnitzel in Herman Ze German.
When we got back to work we were ready to film the interviews. We had some problems recording the sound but Aron successfully matched it to the movement of my lips in the video. He also made the most out of us having three cameras, for example by using the footage from the camera that was facing me when I was talking.
The first interview was with Rhys, Junior Pipeline Engineer. His first job was at Union and he explained how he was really enjoying it here. We interviewed 3 other people on the first day and asked them all the same questions so we could edit together all their answers.
The best interview we did on day 1 was with Jamie, an Environment Artist, because he had the most to say about his job and seemed to thoroughly enjoy it.
By the end of day 1 we had finished editing the first interview and made lots of notes to add to the blog.
Day 2
When we got to the office on day 2 we immediately set up our camera equipment again. While we were waiting for the next person to interview, Louis and I started writing up our blogs and Aron edited the interviews.
Our first interview of the day was with Taskin, who told us he was in the background in one episode of The Inbetweeners!
We then interviewed the co-founders of Union, Tim Caplan and Adam Gascoyne.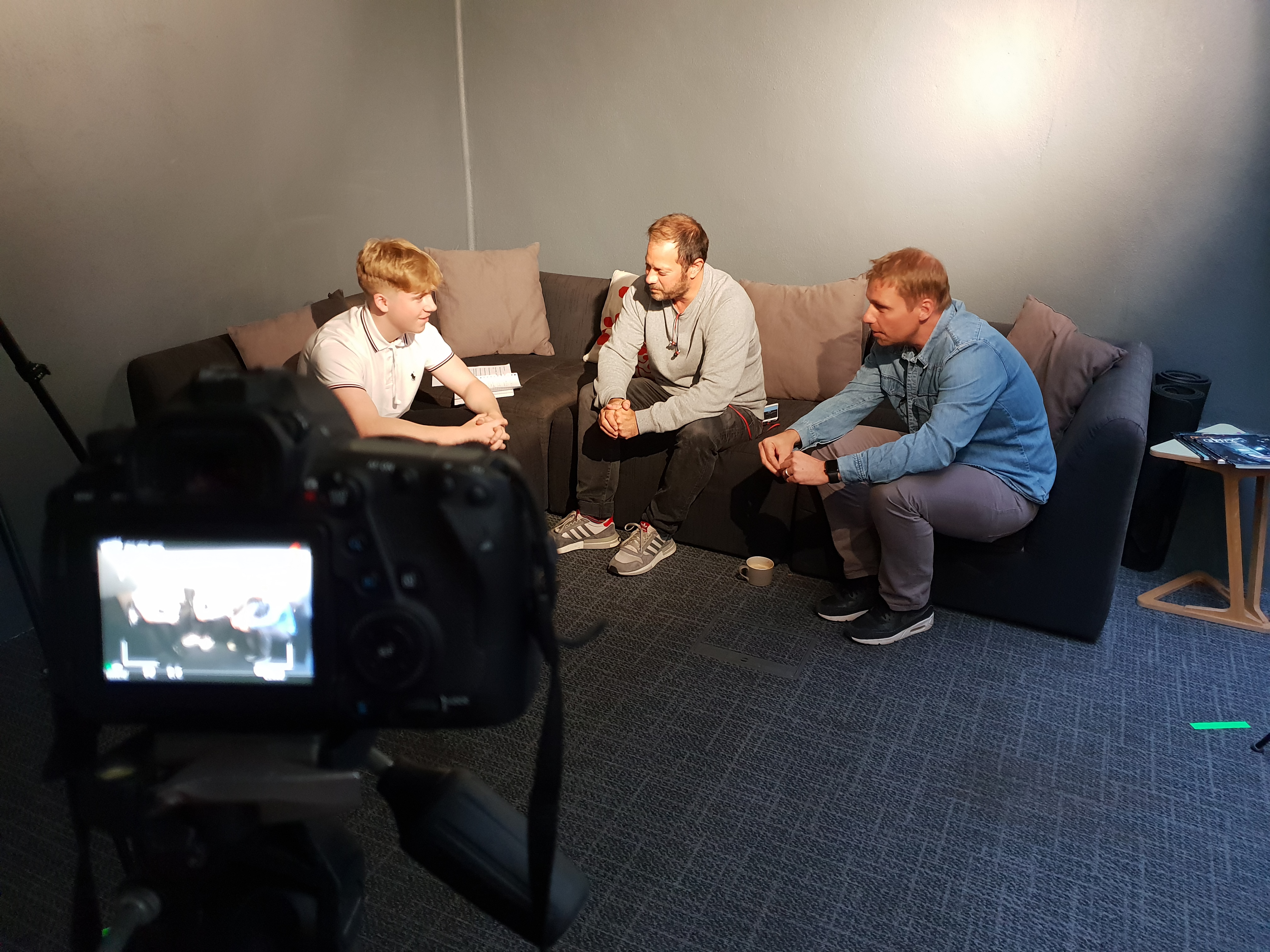 We asked them some very difficult and interesting questions such as "who came up with the idea of starting the company"? Like the interview with Jamie on the first day, Tim and Adam had a lot of interesting things to say about the company and what they think of it.
After the interview, Aron and I saw some more of the VFX that Union have done for different films. We learned that every detail is important and the Producers are responsible for making sure the background of a scene is perfect. For example, they might want to remove a tiny person or a colour that is not bright or dark enough in the far background.
Our final interview was with Zaf, one of Union's Producers, who had a very entertaining personality and the way he talked about his time at Union really displayed how much he was enjoying working there. In fact, everyone we interviewed said that they look forward to work in the mornings, which did not really surprise me because the working environment in the office was very different and exceptional compared to other offices I've visited.
The last thing we did at Union was talk to Tory, Union's Head of People, about what we wanted to do when we're older. She was really helpful in guiding us in the right direction for a career and also told us how much she enjoyed working there.
Overall my experience at Union was very enjoyable; the project was representative of the kind of work we would be doing in London and wasn't the usual making coffee and tea! Most of all I learned that the working conditions and atmosphere of Union would be what I want, because I would feel that I was important in the business because everybody works so well with one another and they all have good friendships.
How they did it
So, the secret to getting into the VFX world is starting from the ground up. Almost all the people working in the industry have started as a runner. What surprised me the most is that some of the people in this industry made it in by accident that led to something they really enjoyed. I guess you could take that as advice and that some of the greatest things aren't intended or planned out.
What skills to consider
Most of the VFX artists we interviewed said they did computer science or art and that those subjects guided them to their position at Union. You don't necessarily need the subjects, but you definitely need passion and skill. Tim (one of the co-founders of Union) is interested in films in general. He grew up watching Star Wars and loved the idea of working on big films.
You may wonder how difficult it would be to become a founder of a successful business, it seems so far away with all sorts of obstacles and barriers but it's the opposite. The industry is full of creatives and if you are creative with a passion you will find your way in.
Progression
When you think of progression in other industries you might think of that one promotion alongside a big cheque, a managing role or even higher. In those industries it seems it is money motivating progression, whereas in VFX it seems to be passion and creativity is the priority.
Some people at Union are very happy with their current position, for others they continue to work hard to move into the next role they want. How do they all start?
Mostly hard work, passion and dedication - you don't always need a special diploma or specific qualifications.
The difference to other industries
To me VFX feels very different to other industries. In many ways it was the start of a creative wave in the word as films and tv shows influence millions of people. When you leave school, you may want to get a job that pays well but you still want to be doing something great, something with meaning and passion.
Whatever industry you go in to, you may still feel like it's not for you and if you're not enjoying it, perhaps you don't know about the VFX industry! Its full of creatives and every single person is here because they love what they do.
All the people we interviewed said they love their job and it's very different to other jobs as the working environment is relaxed and sociable, but also very hard working.
Everyone we met was very nice and helped us with what we needed. Most of the people in the industry are big fans of films. Tim and Adam (the co-founders) are both fans of Star Wars so for them to be working in the industry that created their favourite films is amazing.
Motivation in the morning
The motivation comes from the creativity and the incredible outcomes they get working with a team of VFX artists. For the staff it's not like going to traditional work, it's more like working on a personal project that they are all interested in. The workspace is very well set out out in a Venn diagram style and there are different sections for 2D artists, 3D artists, digital matt painting, lighting/modelling, FX and Match Move. They all work together and motivate each other to achieve.
Achievements
You may think it either takes very little time or a very long time to create VFX. It does take a long time, sometimes months, but you have many people working on different parts of a scene or a section of the film so all the work can be done to fit the schedule.
Union has worked on many great projects like 127 hours, The Take, Trance, White Gold and The Pope which will be released next year. Everyone we interviewed said all their projects were great, they keep on improving their skills all the time and they like to help other people progress further into the industry.
I now know a lot more about the VFX industry. A lot of people that get into it will tell you the same thing, and that's start from the ground up. Being in the environment at Union makes me want to achieve my own goals and enjoy my career path in the future, whether it is in VFX or not. This line of work is very different from work I've done before where I stacked shelves, used the cash registers and fixed equipment. On the first day, I arrived before the others so I set up a motion capture suit which was very cool. I never knew there was a working environment where you can get up and walk around, get food, make phone calls and still work at your very best.